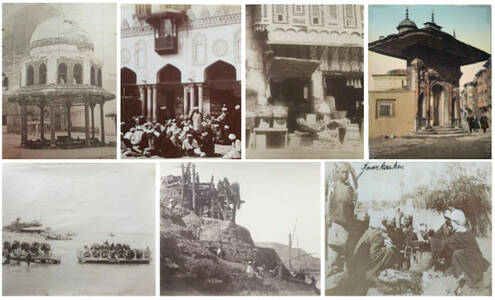 Focus on Islamic Architecture and Daily Life
Large Collection of Oriental Photographs
With Focus on Islamic Architecture & Daily Life in the Late 19th & Early 20th Centuries
Package of original photos and digital files

Order No.:
PHO_014
Status:

sold


Price: € (excl. VAT)
This unusual collection of Oriental Photography (late 19th and early 20th centuries) with focus on Islamic Architecture and Daily Life is being put up for sale in its entirety.

Subjects covered are amongst others:
- Market scenes, workshops, street kitchens, hunting, water wells, bedouin tents, transport by boat and by camel
- Urban structures, mosques, markets, harbours, houses, palaces, ornament, the Suez Canal

The Regional focus is on the Maghreb countries, Egypt, Bilad al-Sham and Istanbul.

Besides more than 250 single photographs the collection contains three albums. The total number of photographs is 454 of which almost two thirds (286) were taken by well-known photographers or studios as Legekian, Zangaki, Bonfils, Sebah, Sebah & Joaillier, Abdullah Frères, Beato, Leroux, Arnoux, Fiorillo, Garrigues, Catalanotti, Dubois, Fettel, Neuerdein and P.Z. (Photoglobe Zurich).

Our bibliographic and archival services for libraries and museums:
For cataloguing and digital availability the album is offered with an electronic inventory in Excel and/or pdf format and a digital reproduction of each photograph in high resolution (c. 2 MB each). These services are included in the price.