Khālid b.ʿAbdullāh al-Azharī, • born c. 838 [1434/35]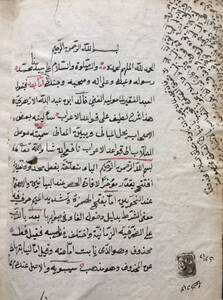 Muwaṣṣil aṭ-ṭullāb ilā qawāʿid al-iʿrāb (A Student's Guide to Grammatical Analysis)
Manuscript in Arabic
Copied by Mehmed bin el hac Yusuf bin Ahmed Fasuhzade, 1269 [1852/53] ; 1270 [1853/54],
126 pp., 21 x 16 cm.

Order No.:
MSS_113
Status:

sold


Price: € (excl. VAT)
Zayn al-Dīn Khālid b.ʿAbdullāh b. Abī Bakr al-Jirjī (or al-Jirjāwī) al-Waqqād al-Azharī was a prolific Egyptian scholar of his time and the author of widely used textbooks and commentaries, especially in the field of grammar.
Al-Azharī was born in Jirjā (Upper Egypt) around 838 [1434/35]. While he was still an infant, his parents brought him with them to Cairo. Later he worked as a lamplighter (waqqād) in a mosque, where he began to develop an interest in learning and scholarship. The most prominent feature of the al-Azhari's works, which were mostly famous in the field of Arab grammar, is that they were written in plain and easy-to-understand language.