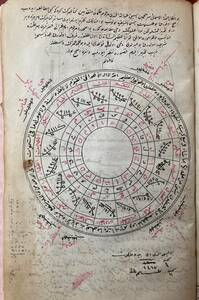 A unique manuscript, author's copy by Niyazi Dede, the Sheikh of the Mevlevi Monastery in Salonika, written in 1260 H. [1844 AD]
Manuscript in Ottoman Turkish
154 pages, 21 x 13 cm.
Cardboard cover with leather spine.

Order No.:
MSS_120
Status: available
Price:

4 200

€ (excl. VAT)
Add to Shopping Cart
I need additional information
Two other small works are included in the manuscript:
1. A complete copy of Dîvânçe (Little Divan of 28 poems) by La'lî Mehmed Fenâî Efendi (998 - 1112 H / 1590 - 1700 AD) Only 4 copies are known in Istanbul libraries.
2. A commentary on Tahḏīb al-āṯā (The Summary of the Hadith of the Prophet) by Abū Ǧaʿfar Muḥammad b. Ǧarīr aṭ-Ṭabarī; (839 - 923 H. /1435 - 1517 AD).

Occultism (from Latin occultus 'hidden', 'concealed', 'secret') is a vague collective term for a wide variety of phenomena, practices and ideological systems, whereby occult can be roughly synonymous with esoteric, paranormal, mystical or psychic.

Evocation (Latin evocatio = calling out / summoning) or as a practice of occultism refers to a magical practice in which a spirit being is to be summoned.