Bespoke Library Supply in Middle East & Islamic Studies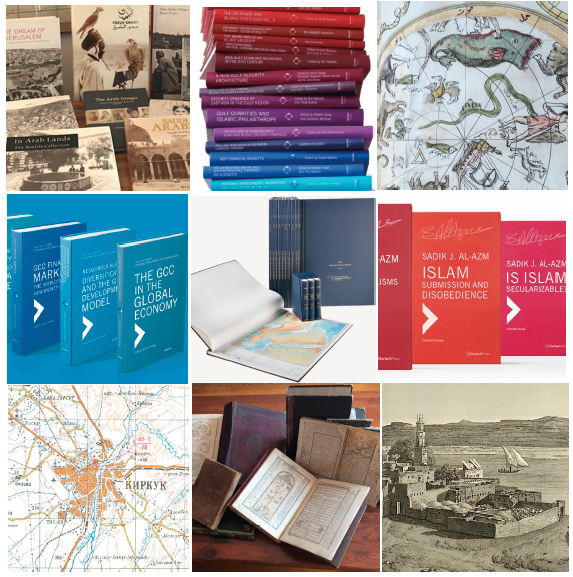 Gerlach Books was founded in Berlin in 1997 and has since supplied libraries and researchers in 82 countries with publications in print or electronic form dealing with the Middle East and/or Islam.
New and Antiquarian Material
In addition to new publications, Gerlach Books' portfolio has been expanded over the years to include journals, databases, maps, atlases, antiquarian and rare books, historical photography, and manuscripts – always with an explicit focus on the Middle East and/or Islam.
Scholarly Libraries
Gerlach Books has cataloged and sold a substantial number of scholarly libraries in the fields of Middle East and Islamic Studies, Islamic Philosophy, Islamic Art History, and Near Eastern Archaeology to leading libraries and universities in North America, Europe, the Middle East, Australia, and East Asia.
Focus & Dedication
The founder and managing director of Gerlach Books, Kai-Henning Gerlach, studied in Berlin, Cairo and Damascus and took his MA in Islamic Studies at Freie Universität Berlin; his thesis on Sadik Al-Azm's book 'Critique of Religious Thought' was under the supervision of Professor Baber Johansen. Kai has since been a specialist in Middle East and Islamic Studies both as a bookseller and as a publisher for more than 20 years.
Worldwide Marketing & Sales
The core of our marketing activities is our in-house database of scholars, libraries, and institutions. This is our direct route to specialists around the globe. Gerlach Books is represented in all key markets of North America, Europe and Asia.
Fairs & Conferences
Gerlach participates regularly in key international conferences (MESA, BRISMES, BRAIS, JAMES, DAVO) and in several book fairs (e.g. Frankfurt, London, Cairo, Abu Dhabi, Muscat, Tehran).
Gerlach Press
Our sister company Gerlach Press 🔗 was founded in 2010 as a new, but at the same time classic academic publishing house with intensive personal support for authors and manuscripts, specialized in one subject only, a "Cutting Edge Publishing Programme in Middle East and Islamic Studies" with a special emphasis on research beyond conventional narratives.
Memberships
- Industrie- und Handelskammer zu Berlin 🔗 (Berlin Chamber of Industry and Commerce)
- Boersenverein des Deutschen Buchhandels e.V. 🔗 (German Book Trade Association)
- MELCom - European Association of Middle East Librarians 🔗
- SLA / AGC - Special Libraries Associatioon / Arabian Gulf Chapter 🔗
- DAVO - Deutsche Arbeitsgemeinschaft Vorderer Orient e.V. 🔗
- BRISMES - British Society for Middle Eastern Studies 🔗
- JAMES - Japan Association for Middle East Studies 🔗
- MELA – Middle East Librarians Association 🔗