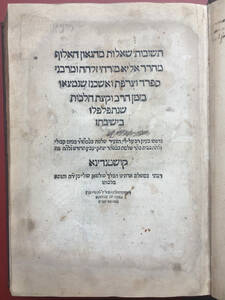 Teshuvot u-Sheilot (Questions and Answers or Responsa)
Early example of Hebrew printing from Istanbul/Constantinople,
Solomon ben Isaac Jabez, 1560.
[8], 318, [6] pp.,
Modern morocco-backed boards,
28.5 x 19.5 cm.
Eliah Mizrahi

–

Questions, answers and fatwas by our wise and revered Rabbi Eliya Mizrahi on the rules discussed by rabbis in religious academies (yeshivas) in this country, Spain, France and Germany. Teshuvot u-Sheilot was printed under the editorship of Solomon Kabuli, the son of our learned Rabbi Menahem Kabuli, in the printing house of Solomon ben Isaac Jabez, the son of our Rabbi Yitsak Jabez, during the reign of our Gebieder (Efendi) Sultan Suleyman in the capital Constantiniyye. May the Lord strengthen and glorify his throne. This bo...
more »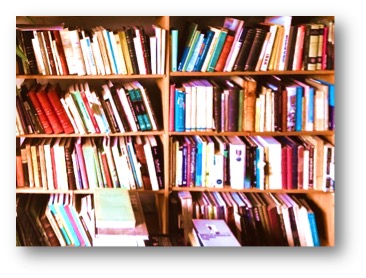 Research Library on Islamic Law and History (approx. 1800 titles)
of the late Professor Rudolph "Ruud" Peters, Emeritus of Islamic Law, University of Amsterdam

Ruud Peters (1943-2022) was one of the world's leading scholars in Islamic Law. His working library reflects the distinct research areas of its compiler in a unique way: From the history of Jihad, to Egyptian history in Ottoman and Khedival times to Islamic Law which was his main field of research over a period of 40 years.
The library consists of three main subject areas and counts a total of c. 1800 titles: 1. Islamic Law: c. 640 titles, 46% Arabic, 33% English, 7% Turkish, 15% other languages 2. Islamic Studies: c. 500 titles, 22% Arabic, 42% English, 25% Dutch, 8% German 3. Islamic History: c. 660 titles, 31% Arabic, 48% English, 9% Dutch, 6% German Prices: 1. Islamic Law Collection: 29.800.00 EUR 2. Islamic Studies Collection: 22,200.00 EUR 3. Islamic History Collection: 28,000.00 EUR The three subject collections can be pur...
more »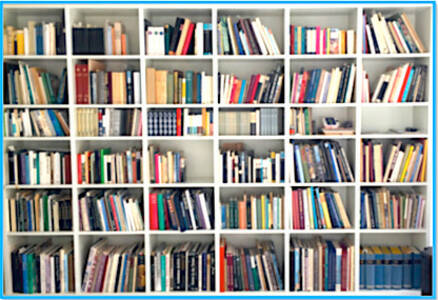 Scholarly Library on Islamic Art – Focus on Miniature Painting
Approx. 600 titles.
This very focussed working library is being put up for sale in its entirety. Main subjects covered are: - History of Islamic Arts, Architecture and Material Culture - Influences on Islamic Art - Painting and Calligraphy - Miniature Painting - Handbooks, Dictionaries - Exhibition Catalogues - Geographic areas: Middle East, Iran, India, Central and East Asia The collection of books consists of almost 600 mostly hard cover volumes mainly written in English and German. Many exhibition catalogues and other richly illustrated bo...
more »