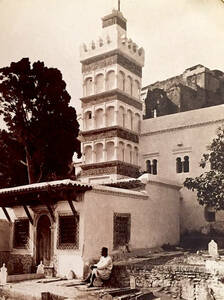 Algeria: Architecture, Portraits, Street Life, Tents
Two Albums with 57 Albumen Prints, Photogravure, Heliotypie, and 54 Postcards
32.8 x 25 cm
c. 1890 – 1900

Order No.:
PHO_Album_T
Status: available
Price:

2 775

€ (excl. VAT)
Add to Shopping Cart
I need additional information
Insightful Album on Algeria from 1890/1900 with 57 mostly Albumin prints covering portraits, street views and scenery. Complemented by a rare collection of 54 postcards focused on the same subjects in a second Album.