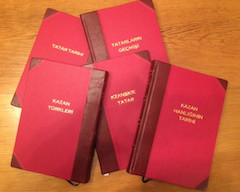 History of the Tatars
Lot of 5 Books Published in Kazan during the 1920s Printed in Cyrillic & Arabic Script

Order No.:
RAR_028
Status: sold
Price:

5 500

€ (excl. VAT)
I need additional information
The five books originate from the 1920s just before Soviet authorities introduced Latin script for the Tatar language. During the early years of the Soviet Union secular schools had started using Cyrillic script and Tatar religious schools continued to use Arabic script.

All books are bound in red half-leather with their original covers inside.