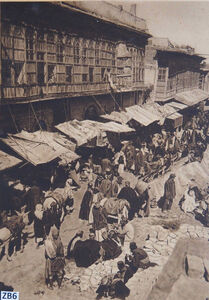 CAMERA STUDIES IN IRAQ (1925)
Album with 73 photogravures taken in Basra, Baghdad, Babylon, Ctesiphon, and Mosul
Size: 31.5 x 25 cm
Package of original photos and digital files
1925

Order No.:
PHO_Album_ZB
Status:

sold


Price:

1 825

€ (excl. VAT)
Beautifully made photo book on Iraq from the 1920s in very good condition. 73 well preserved sepia photogravure images on 50 plates, providing a very good insight of Iraq between its shaping of its borders in 1920 and its independence from Britain in 1932; clean and crisp copy; cover: crocodile imitatation board with gilded letters. Slightly worn on the outside.

Our bibliographic and archival services for libraries and museums:
For cataloguing and digital availability the album is offered with an electronic inventory in Excel and/or pdf format and a digital reproduction of each photograph in high resolution (c. 2 MB each). These services are included in the price.