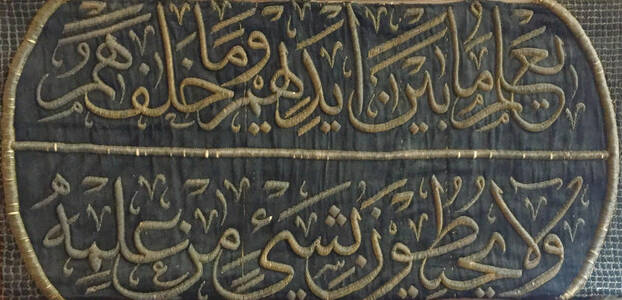 Qur'anic Verse from the Kiswah, the Cloth that Covers the Kaaba in the Holy City of Mecca
Produced in Egypt, this piece of Kiswah dates back to the 1920s and was a present to a German scientist.
Size: 71 x 37 cm

Order No.:
OBJ_117
Status:

sold




Price upon request
Verse 255 (Ayat al-Kursi) from Sura 2, al-Baqara:

"He knoweth (all) that is before them and (all) that is behind them, while they cannot compass it in knowledge."

Every year during the Hajj, the old Kiswah is removed on the 9th day of Dhu al-Hijjah, cut into small pieces, and given to visiting Muslim pilgrims, dignitaries and organizations.

In the early 19th century Muhammad Ali of Egypt ordered the expenses for making the Kiswah to be met by his state treasury. Since then, Dar Al-Khoronfosh a workshop in the Gamaleya district of Cairo had been selected for making the Kiswah, and continued this role throughout the reign of the Egyptian monarchy. After the takeover of the Hijaz region, and from 1927 onward, its manufacture was partially moved to Mecca and then fully moved in 1962, when Egypt stopped manufacturing.