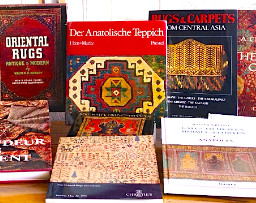 Reference Library Oriental Carpets & Rugs
457 items published between 1891 and 2015

Order No.:
COL_013
Status:

sold




Price upon request
This beautiful and rich reference library on Oriental carpets and rugs consists of a total of 457 items of which 60% are monographs and 40% exhibition and auction catalogues.

The books were published between 1891 and 2015 – the majority written in English and German, and a few in other European languages. - The library is now up for sale in its entirety.

Besides many handbooks and monographs the collection contains important exhibition and auction catalogues. The majority of books are richly illustrated (full colour as well as black and white) and contain large format maps and tables. The condition is very good.

The focus of all books and catalogues is on the varieties of Oriental carpets and rugs, with special attention to the countries and regions of origin, e.g. Persia/Iran, Turkey, Turkestan, Kazakhstan, Caucasus, Uzbekistan, Pakistan, Azerbaijan, Afghanistan, Iraq and Romania.