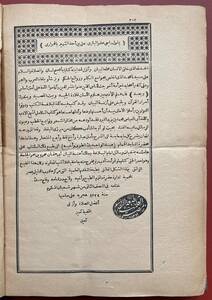 al-Kāmil fī l-Lugha wa-l-Adab, 2 Volumes
Printed in Arabic
Cairo: al-Maṭbaʿa al-taqaddum al-ʿilmīya 1323 & 1324 H. [1905/06].
Vol. 1: 296pp, vol. 2: 302pp.
27.5 x 19.5 cm, beautiful new half-leather binding 1970s.

Order No.:
RAR_016
Status: available
Price:

475

€ (excl. VAT)
Add to Shopping Cart
Click for further details
Mubarrad, Abu 'l-ʿAbbās Muḥammad b. Yazīd b. ʿAbd al-Akbar al-T̲h̲umālī al-Azdī (his genealogy reaches back to the D̲j̲āhiliyya; cf. Wüstenfeld, Tabellen, no. 10; Caskel, Tafeln , no. 210), celebrated philologist, was born in al-Baṣra on 10 D̲h̲u 'l-Ḥid̲j̲d̲j̲a 210/24 March 826 (or between 2 and 5 years earlier).