Ibrahim Hakki Erzurumi 1115-1194 H. [1703-80]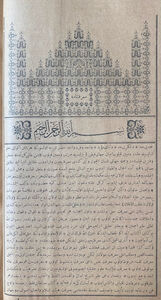 Ibrahim Hakki Erzurumi 1115-1194 H. [1703-80]
Printed in Ottoman Turkish
Istanbul 1310 H. [1893] Âmire Matbaası, Sahafiye-i Osmanîye
16 + 564 p., half leather binding
32.5 x 24 cm
ÖZEGE 12259

Order No.:
RAR_139
Status: available
Price:

1 400

€ (excl. VAT)
Add to Shopping Cart
Click for further details
The famous scientific encyclopedia, published more than half a century after the death of its author, the Turkish Sufi philosopher Ibrahim Hakki Erzurumi (1703-80). The "Marifetname", or "Book of Gnosis", completed in 1756, is a compilation of astronomical, astrological, mathematical, anatomical, psychological, philosophical as well as mystical religious texts.

The work is famous for containing the first treatment of post-Copernican astronomy by a Muslim scholar.

Among the astronomical and geographical illustrations are a world map in two hemispheres, a map of the poles, the lunar phases and diagrams showing the solar system and earth's orbit.