John Lewis Burckhardt (1784 – 1817)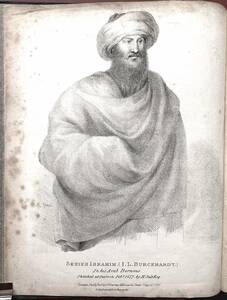 Travels in Syria and the Holy Land
First Edition 1822

Published by John Murray, Albemarle Street, London
xxvi, 668 pp., 27.5 x 22.5 cm
Printed by William Nicol, Successor to W. Bulmer & Co. Cleveland-row.
Restored half-leather binding using original cover.

Order No.:
RAR_124
Status: available
Price:

3 000

€ (excl. VAT)
Add to Shopping Cart
Click for further details
Maps and illustrations as listed on page "Directions for Placing the Plates":
1. Portrait of Burckhardt in his Arab Bernous, sketched at Cairo Feb. 1817 by H. Salt, Esq.
2. Map to accompany the travels of J. L. Burckhardt in Syria and the Holy Land. (foldout)
3. Map of the Haouran and adjoining districts constructed from the Observations and Drawings of J. L. Burckhardt. (foldout)
4. Valley of the Orontes near the Ancient Apameia.
5. Plan of the Ruins of Djerash.
6. Plan of the Ruins of Amman or Philadelphia.
7. Plan of the Lower Part of Wady Mousa.

Johann Ludwig Burckhardt (born 1784 in Lausanne, died 1817 in Cairo) was a Swiss traveller to the Orient. During his stays he called himself Sheikh Ibrahim ibn Abdallah. He is best known as the rediscoverer of the Nabataean city of Petra and the great temple of Abu Simbel. In addition, he was the first European to present a detailed description of the holy sites of Mecca and Medina.