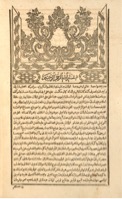 Hakaikü'l-kelam fî Tarihi'l-İslâm (Truths about the History of Islam)
Printed in Ottoman Turkish
Istanbul: Matbaa-i Âmire, 1297 [1880]
ÖZEGE 66205
3+357 pp.
Full leather bound, guilded ornamental covers, 19.5 x 13.5 cm.

Order No.:
RAR_132
Status: available
Price:

750

€ (excl. VAT)
Add to Shopping Cart
Click for further details
[Abdüllatif] Suphi Pasha (1818-1886) was a historian and education specialist. He was the founder of the Faculty of Fine Arts (Sanayi-i Nefise Mektebi) and The Archological Museum (Müze-i Hümayun) in Istanbul.He planned in his work Hakaiku'l-Kelam fi Tarihi'l- slam a general history of the Islam in many vulumes, but only the first volume is published about the time from the beginning of Islam to the time of Caliph Ali.